8th January 2017
From Couch to Crunch: 5 Ways to Get Fit in 2017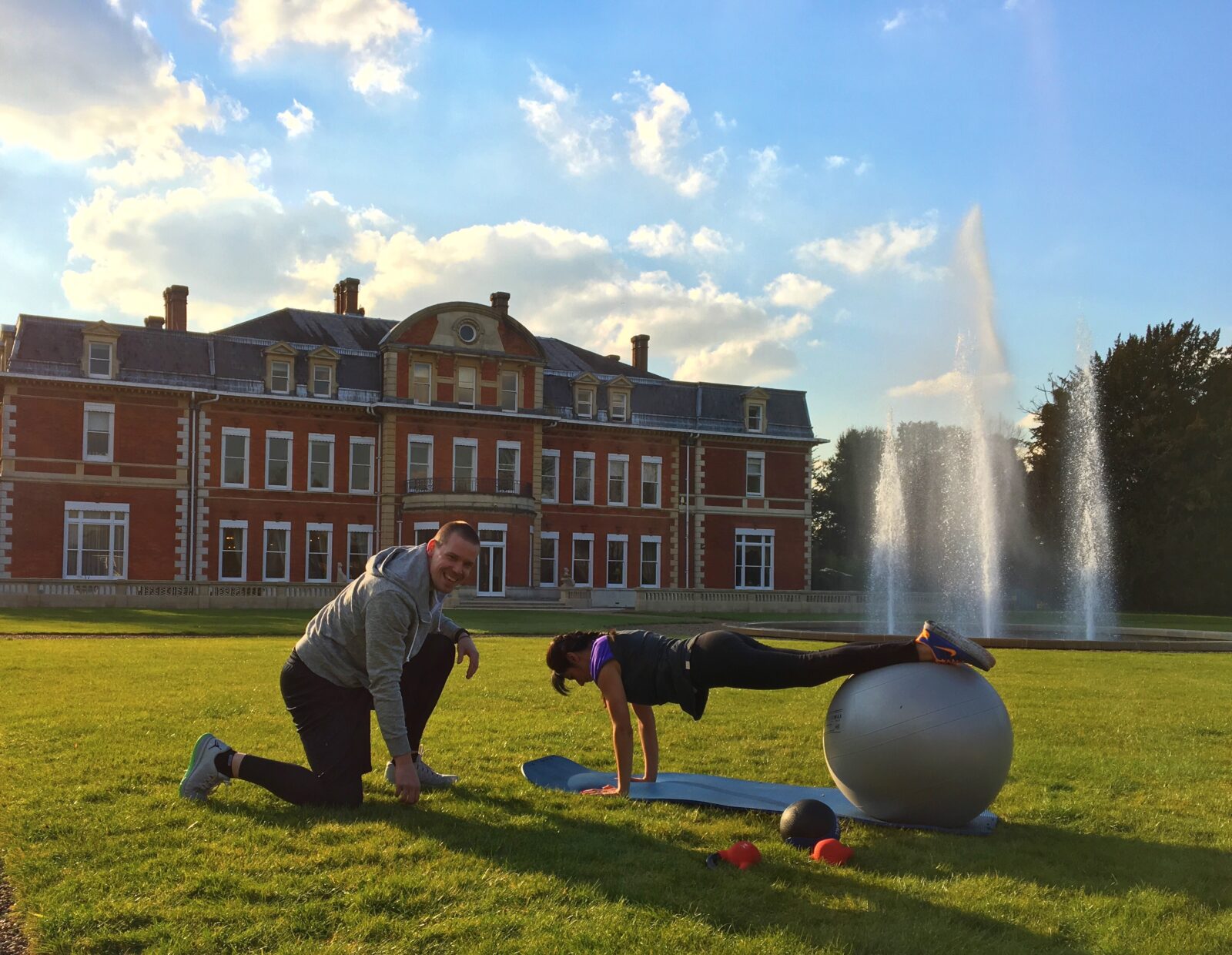 If, like most of the UK population, you've started the New Year full of resolution for self-improvement, then by now you may be teetering on giving it all up and reaching for the wine or remote control. It may only be week 2, but according to a 2015 poll conducted by Bupa, 63 per cent of people failed to keep their New Year's resolutions, with 43 per cent lasting less than a month.
This year, the most common New Year's resolutions* show exercising more (38 per cent), losing weight (33 per cent) and eating more healthily (32 per cent) top the UK's most wanted list. (*source: ComRes poll – link)
It's no surprise that after the over-indulgence of the festive season that we want to get into shape, shift a few pounds and nourish our mind, body and soul.
Luckily at Fetcham Park, we have our very own in-house personal trainer, health and fitness expert Peter Haling from The Health Quest (link), on hand to offer some easy tips and advice on getting fit and well in 2017.
Peter's 5 Ways to get you looking and feeling great
1.     Get up and walk.
Walking and running are excellent ways to stimulate blood flow throughout the whole body and allows office workers to literally stretch their legs. We have put together some fantastic local walking and running route around Fetcham Park – ask reception for details.
If people are fit enough they can go for a run, but my advice would be to walk for 5 minutes before you start running. After raising your heart rate with a brisk walk, perform the following:
·      Glute activating exercise like a glute bridge where you lie on your back with your knees bent and lift your hips off the floor clenching the glutes. Repeat 10 times.
·      Activate the back of the shoulders by performing a snow angel against a wall with your arms, trying to keep the elbows and fingers in contact with the wall. 10 big circles will generally do the trick.
·      Mobilise and stretch – work from the top down by stretching the neck, chest, hips, glutes, quads, hamstrings and calves. Suitable for a short exercise sequence or as preparation for exercise.
2.    High intensity training or tabata.
Buzz words like HIIT and tabata are fantastic if the person is not injured and can tolerate a high workload in a short amount of time. This is my favourite type of training but it doesn't suit everyone.
A 4-minute round of tabata intervals can leave you with muscle soreness for several days. Tabata consists of 8 rounds of 20 seconds on, 10 seconds off adding up to just 4 minutes. After the warm up and stretch (as above), we can pick 1 or 2 exercises to use in our tabata session. Compound exercises like squats, press ups, burpees, jumping lunges and tuck jumps, will give you the best result.
I wouldn't advise beginners to do any jumps until they've built up enough strength, stick to squats and press ups. Try this quick and super effective sequence for 4 minutes:
·      First 20 seconds perform as many squats as possible.
·      Followed by 10 seconds of rest.
·      Press ups for 20 seconds.
·      Rest for 10 seconds.
At The Health Quest, we use an app call Interval Timer to record the intervals.
3.    Help ease lower back pain.
I know a lot of people suffer with low back pain, so on our website you'll find a series of helpful exercises: www.thehealthquest.co.uk/healthy-back 
These exercises are great for people who are in pain and want to get back pain relief. Even though you can get straight into these exercises, it's a good idea to go through a little warm up such as a walk and stretching before you get started.
4.    Go running.
Running is the most common choice of exercise and is a great stress reliever. Running is great for improving fitness and Norbury Park is only 5-10 minutes from Fetcham Park. The woods provide excellent trails for runners of all fitness levels.
We advise listening to your body whilst running. If you're a novice runner, you might want to start by alternating walking and running. Try running for 1 minute, walk for a minute and build everything up from there. Slowly increase the running time but keep the walking time at 1 minute.
We love using an app called Strava, which has different running routes and times on it. You can even compare your running time with Laura Caudery's, she'd love you to challenge her!
5.     Hire The Health Quest and get a highly individualised exercise programme.
We work WITH our clients. Our bespoke training approach ensures you use your precious time efficiently. We either work with you 1-2-1 and help you reach your goals or we create an individual programme that you can realistically commit to on your own.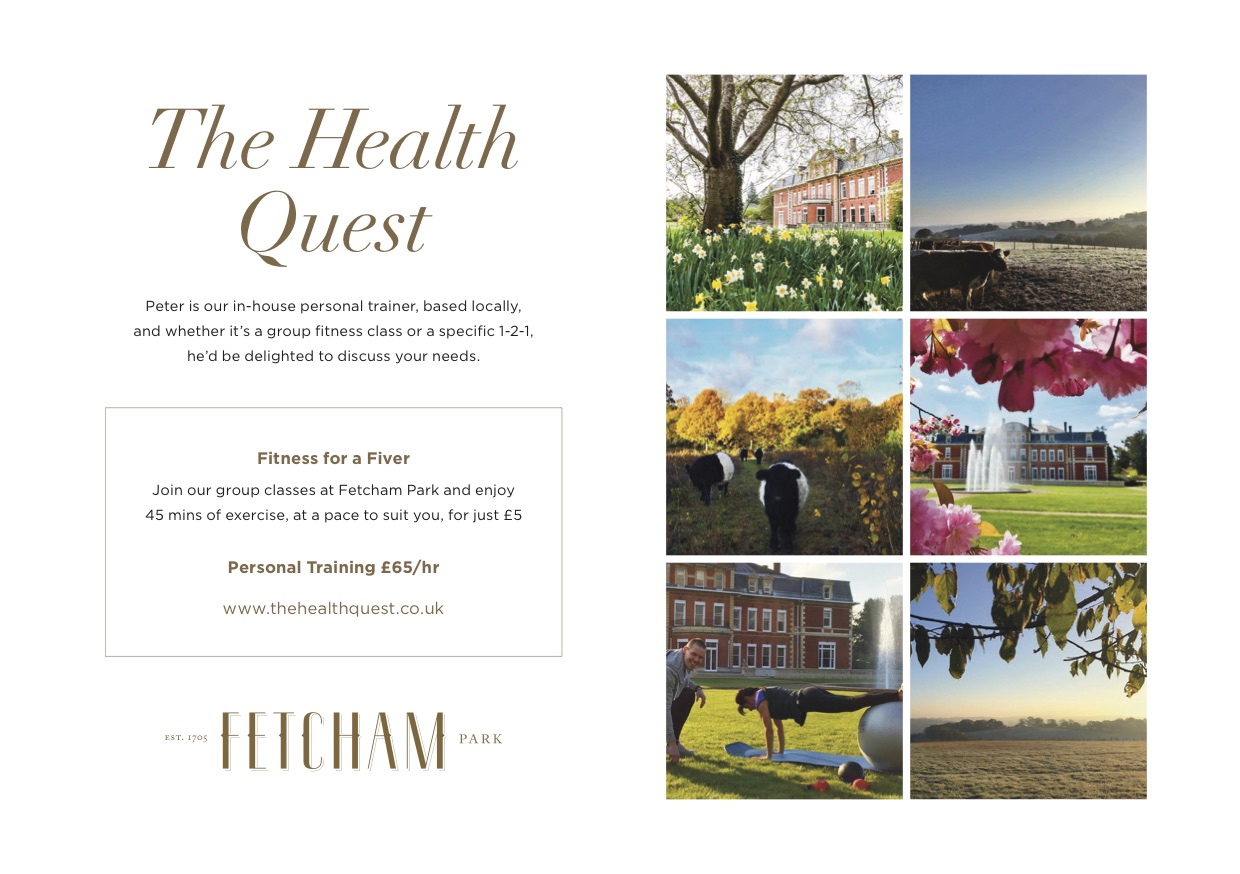 Fitness for a Fiver
Join our group classes at Fetcham Park and enjoy 45 minutes of exercise, at a pace to suit you, for just £5.
For more information about this and personal training email: peter@thehealthquest.co.uk or visit www.thehealthquest.co.uk
Wishing you a happy and healthy 2017 from everyone at Fetcham Park.