22nd September 2016
Fetcham Park is Mole Valley's Top Attraction for Heritage Open Days 2016
Fetcham Park has exceeded local expectations by becoming the most visited venue in the Mole Valley district during Heritage Open Days (September 8-11), the UK's biggest heritage festival.
On Sunday, September 11th, over 630 visitors in just four and a half hours were welcomed to the house and gardens. This was the highest number of visitors for any venue or attraction participating in the Open Days festival in the Mole Valley area.
In keeping with this year's Heritage Open Days theme – the Year of the English Garden – a new exhibition curated by local historian, Vivien White, revealed the secret behind the garden's original designer.
Thanks to Vivien's research, it has been confirmed that the original gardens were designed by George London, one of the greatest and most influential gardeners of all time, whose work can also be seen at Hampton Court and Blenheim Palace.
From the research, it has been possible to recreate what the garden may have looked like – one of the highlights of the exhibition. It is believed that Fetcham Park was George London's final completed project before his death in 1714.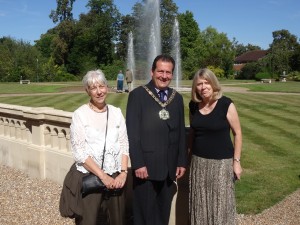 Pictured from left to right: Sandra Young of Fetcham Park, Councillor Mir, chairman of Mole Valley, District Council and local historian, Vivien White.
The impressive turnout made it Fetcham Park's most popular Heritage Open Day to date, with an increase in visitors of around 40% from last year. Among our many guests was Councillor Mir, chairman of Mole Valley District Council.
"Preserving the history of the house is extremely important to us," comments Sandra Young of Fetcham Park, "so to see such an interest in Vivien's research from people across the area was really encouraging.
"Even though Fetcham Park has been here for over 300 years and is well-known as a business centre, there are still many local people who don't know we're here.
"Supporting Heritage Open Days provides us with an additional opportunity to open our doors so that anyone can discover some hidden treasures on their doorstep."
Award-winning spaces for your business
Fetcham Park is an award-winning business centre where tradition and modernity combine. To find out more about our flexible and focused serviced offices, virtual office and meetings space, email us on hello@fetchampark.co.uk