2nd November 2016
Sitting Pretty with Herman Miller
As Fetcham Park's business residents know, the importance of comfort and wellbeing in the workplace is one of the things that makes our award-winning serviced offices stand apart from our competitors.
When the house, which dates back to 1705, was originally developed into office space in the 1980s it was transformed from a virtual ruin to the splendid building you see today.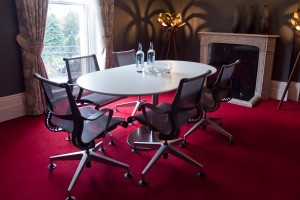 But as we all know, time moves on, and an office building must respond to the needs of its business customers. Following further improvements at the end of the 1990s, director Sandra Young felt the time had come for a major overhaul: "We had reached the point where the building was starting to look a little tired. The reception spaces have a historic elegance to them but the office spaces were bland, and I felt they didn't reflect our vision for Fetcham Park as a functional and inspiring place to both work in and look at."
Over a period of 12 months, all the serviced office space was completely refurbished, creating light, bright work spaces. For Sandra Young, a key part of the refurbishment was the inclusion of Herman Miller ergonomically designed Sayl chairs at every workstation, including the ground floor traditional offices, and Setu chairs for the client meeting room: "I've had issues with RSI and postural problems myself," she comments, "so I know the importance of having your workspace set up correctly. By using Sayl and Setu we are giving our clients the best possible support while they are at work."
The refurbished offices with their graphic, bright interiors enhanced by the Herman Miller designs are part of a wider package of benefits for Fetcham Park clients; there are yoga classes, visiting masseurs, and over four acres of stunning parkland for clients to enjoy. "Our attitude to work and client service is modern" concludes Sandra, "and now our office environment reflects this. They are also a key part of how we support the wellbeing of our business residents."
As a valued customer of Herman Miller, Fetcham Park was recently asked to take part in a case study to highlight the importance of using quality, ergonomic seating solutions.
Herman Miller Seminar, Spring 2017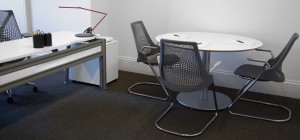 In spring 2017, we will be welcoming the Herman Miller Knowledge and Insight Group to the house for a seminar on wellbeing in the workplace. This will be a unique opportunity to discover more about the inventive designs, technologies and related services that Herman Miller provide to improve the human experience wherever people work, heal, learn and live. More details about this event will be revealed soon.
Serviced offices at Fetcham Park
Offices at Fetcham Park in Surrey are flexible and professional. We'll tailor your fully serviced office to suit your brand, your budget, and the way you like to work. You can just plug and play, with no capital investment or long-term commitment.
For more information, contact us on hello@fetchampark.co.uk