2nd November 2016
Inverdale and Morris Give Challengers a Sporting Chance
On October 5th, Fetcham Park opened its doors to Challengers Business Club for an evening of sporting inspiration. Joining leading media specialist and journalist Linda Duberley on stage were Paralympic Gold Medallist Rachel Morris, fresh from Rio, and legendary sports commentator and presenter, John Inverdale.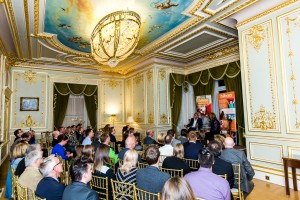 The elegant and intimate surroundings of The Salon provided the perfect backdrop for the esteemed guests. As the room filled with interesting and entertaining anecdotes from Inverdale and Morris, guests were treated to tales from behind the scenes at some of the summer's most exciting sporting events including the Ryder Cup, Premier League and of course, the 2016 Rio Olympics and Paralympics.
Duberley opened up the floor to the crowd where everyone became excited to quiz John and Rachel about their careers. One crowd member asked Inverdale, "Who would be the one person you have met that you would most like to go for a drink with?" Inverdale responded with a funny tale about John Mcenroe, describing him as an "entertaining, clever and hilarious character."
Jack Brown, Events Officer for Challengers, said; "We are so excited to have so many special guests with us tonight to share with our Business Club members. The discussions tonight were so interesting and it was fantastic to see the whole room engaged and inspired. We are so grateful to Sandra Young and everyone at Fetcham Park for their ongoing support and generosity in giving us this magnificent venue."
Challengers Business Club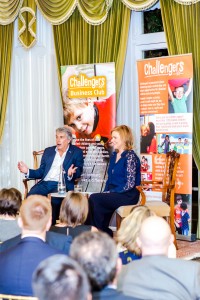 Challengers is a charity that provides fun and exciting play and leisure schemes for disabled children and young people. Currently supporting over 1,300 families across 24 different schemes, the Challengers Business Club is just one way that the charity raises funds to continue their much-needed service.
Behind the Challengers Business Club is a dynamic group of locally based firms committed to growing their businesses whilst supporting Challengers. All members are local and play an active part in the local business community. Being a part of the Business Club gives you access to exclusive quarterly seminars, like the Fetcham Park event, hearing from business leaders at the top of their professions.
For more information about becoming involved with the Challengers Business Club, contact Susie Jewell on 01483 230 060 or email susiejewell@disability-challengers.org
Visit the Challengers website to find out more: www.disability-challengers.org/business-club
Looking for a venue?
Fetcham Park is the perfect venue for special events. With a choice of elegant and versatile spaces, outstanding catering and an experienced in-house events team, the house and gardens offer a memorable setting for your corporate, charity or private event.
For more information contact us on hello@fetchampark.co.uk
Photography by Eddie Judd