1st May 2018
Fetcham Park Recommends: Corporate entertainment with more VA VA VOOM!
As the summer season approaches, the longer days make this time of a year the ideal opportunity to rally the troops for a corporate away-day or client entertaining.
If you're looking for original corporate entertainment, Fetcham Park recommends racing colleagues and friends around famous historic Grand Prix circuits, courtesy of Classic Race Simulators.
Based in Farnborough, this innovative company bring the racing experience to your office or venue. Beautifully crafted bodywork combined with state-of-the-art computer software and hardware puts you in the driving seat of the world's most iconic cars and racing circuits.
Imagine driving a classic Lotus 49, Ferrari or McLaren around the stunning and challenging original Spa, Monaco and Monza race circuits…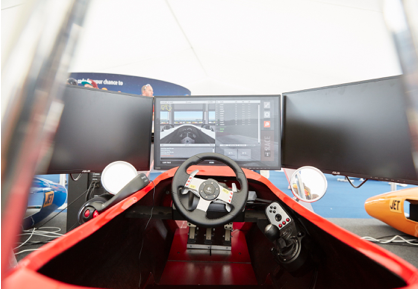 Founded in 2013, Classic Race Simulators is the number one mobile race simulator company in Europe. With more than fifteen classic simulators, and all the current F1 circuits, the team can also custom design and make new, bespoke sims to client's requirements.
Fancy racing a classic motorsport car? Now's your chance!
To hire Classic Race Simulatorsfor your party or corporate event, call 01252 516693 or email: thepitcrew@classicracesimulators.com
Find out more about corporate entertainment and events at Fetcham Park. Visit www.fetchampark.co.uk or email hello@fetchampark.co.uk