11th January 2018
Charity Founder Runs 52nd Marathon for Challengers
If your New Year resolution is to take up running then Colin Hassell, founder of Guildford based charity Challengers, will inspire you to hit the pavement with gusto.
In April, Colin will be donning his trainers once more for the gruelling 26-mile race around our fair capital in what will be his 52nd marathon. As he has done for the last 40 years, Colin will be running for Challengers, a charity he started in 1979. Money raised will go towards providing exciting, challenging, and inclusive play and leisure activities for disabled children and young people.
Since 1976, Colin has completed marathons in London, New York, Paris, and Guildford, many of which as a guide to blind athletes. Not only has he trained and ran alongside visually impaired competitors, he's also pushed disabled athletes in their wheelchairs. Add to this some usual running attire – a 7ft mouse mascot outfit, Union Jack shorts with a dinner jacket and bow-tie – and you'll see that Colin likes to do these a bit differently.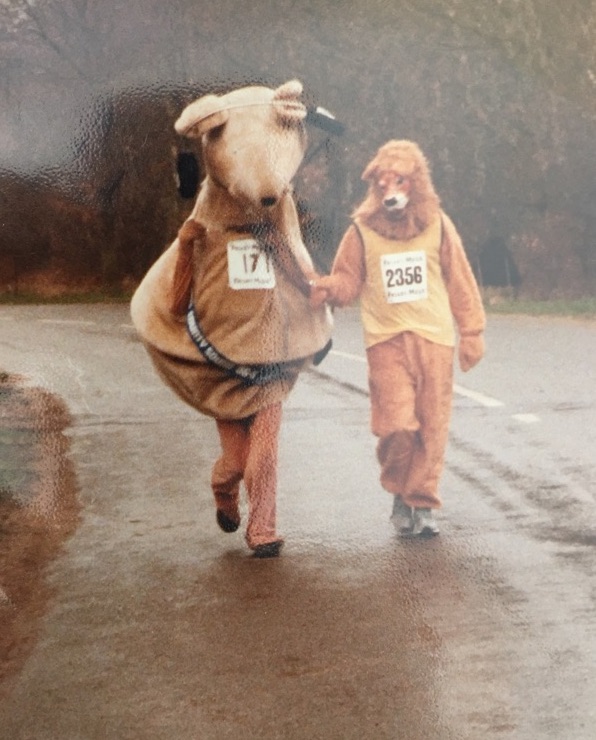 "Funds raised will continue to provide so much joy to the children and of equal, if not more, fantastic support to the amazing families," says Colin, "Challengers is such an important organisation run by an excellent team of dedicated staff, volunteers and board who have the all-important ingredient – a passion, understanding and love for all the children. For me, it's a lifetime passion I feel so proud to be a part of!"
Now aged 70, Colin is making the journey from his home in Western Australia to compete in the 2018 race. We caught up with him to see how the training is going and to get his tips and advice from a marathon-pro.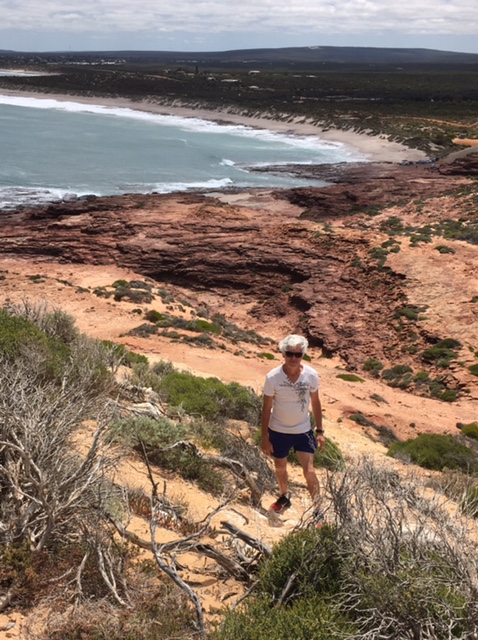 Colin training in Western Australia where he now lives.
So, Colin, how is your training going?
I started training about 4 months ago when the weather was cold and wet which is ideal. As the months pass by we enter our summer which, for us in Bakers Hill, can be very hot, not unusual to reach more than 40oC. So, training must be early in the morning.  However, I usually run a couple of times a week even when I am not training for anything, so I have mainly extended and increased my runs. I value add by cross training using the pool, specific weight training and cardiovascular workouts.
January and February will be very challenging. March I am hoping will allow me to extend my distance and time on the road. When running in the bush you need to be mindful of snakes. The other day I broke the 100m sprint chased by an angry snake, fortunately, this is a rare occurrence.
Tell us about your training plan.
My training plan needed to consider many factors with the aim to achieve my goal of completing the 2018 London Marathon with the least amount of pain as possible.
Factors:
1.     My age, I am under no illusion this will be a major challenge, whilst I have completed 52 marathons every single one is a new challenge and the fact that this is my 70th year requires a different approach.
2.     Knowing the London Marathon is a relatively flat course, my training regime includes numerous hills. I currently run 15km of which 80% is undulating bush tracks.
3.     Heat: As you will appreciate this time of year brings challenges. Our temperature range can be as low as 20oC to 40+oC with January and February being the most challenging. I have a very mixed training plan which includes weight training (specific to running/cardiovascular, swimming, in water exercise spin cycle. It's been 14 years since I ran a full marathon and 1986 was the last time I ran the London Marathon (32 years ago).
4.     As I get closer to the date my running distance will grow as will the number of runs per week currently 3-4. This will grow to 5-6 and the distance and time on the road will need to also grow to cope with the 42kms. I aim for two things – distance runs that are challenging and time running 1-3 hours.
What have you been eating in preparation?
My diet is comprehensively inclusive of all food groups. My breakfast is half a grapefruit, followed by either boiled or poached eggs with wholemeal/multigrain toast or a bowl of yoghurt with a variety of fruits and nuts and sometimes beans on toast.  A fruit smoothie with mango, banana, yoghurt, milk and ice-cream is my mid-morning snack.  Lunch is generally on the go, usually sandwiches with wholegrain bread with turkey, chicken or cold meat, cheese and salad.
I will drink approximately 4-6 litres of water throughout the day (as I am working outside at the pool in the heat).  My evening meal is usually a beef or chicken stir-fry, barbecue meat, baked potato and a range of salads, spaghetti bolognaise with vegetables or something similar.  I make a point of always eating well daily and don't carb load just prior to the event.
Any tips and advice for runners?
My advice for other runners is not to drink any sports drinks or anything that they haven't previously been having on race day – stick to what works and what you use normally.
When did you start running?
My first recollection of running was a race to celebrate the Queen's Coronation aged 4, but my real running started at school. Having absolutely no skills at cricket or football, I was told by the teacher to "just run around the grounds". Because of all this running, I ran for the school.
My distance running really started with the encouragement of my best friend and older brother John; we shared so many sporting endeavours – some just plain crazy! John was also one of the most significant supporters of Challengers – so many marathons we ran together raising significant funds and support for the charity.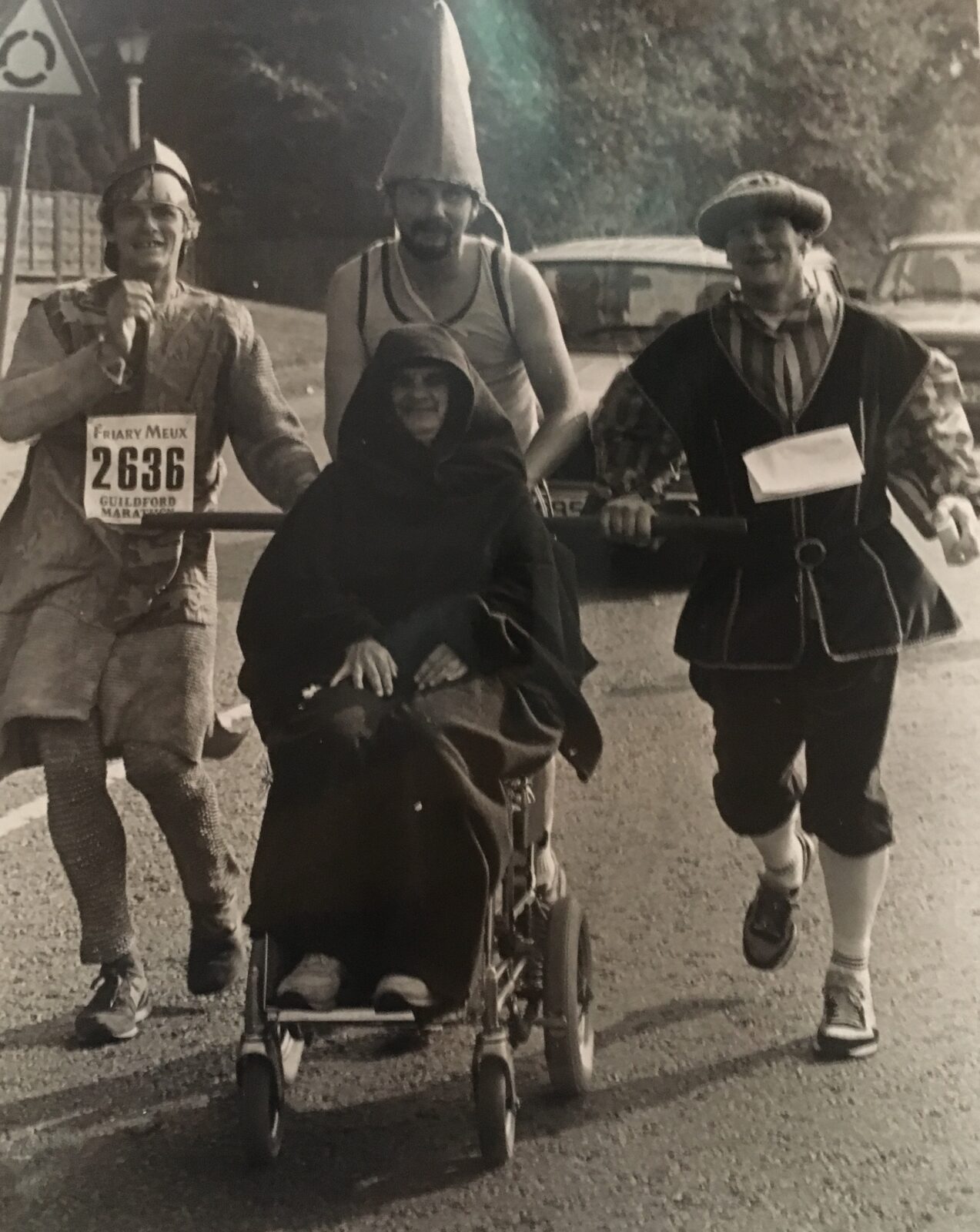 Running the Guildford Marathon in the 1970s. Sponsored by the Robin Hood Pub, Colin ran the race dressed as a peasant (2636), pictured with his brother John as Robin Hood, David Wood as Maid Marion, and Ethel O'Neil as Friar Tuck.
Colin says: "Training blind athletes is very challenging – I need to be much fitter to guide and talk throughout all the required training as well as the 42km event. But just so rewarding."
Colin's Running Highlights
·       1982 New York Marathon – I was a guide for the youngest blind athlete Justin Isom who turned 18 a few days before this event.  We completed the 42kms in 4hrs 11mins.
·       1984 London Marathon – Ran wearing Guildford County Sound Radio Mascot, a 7ft big heavy mouse suite, the run took me 5+hours.
·       1985 Paris Marathon – Ran in cold and wet conditions – John and I pushed Ethel O'Neil in the Paris Marathon. Apart from appalling weather and some strange looks from spectators as both John and I wore Union Jack shorts, dinner jackets, shirt and bowties. Ethel was one of our original swimmers who asked me if she could run a marathon. Whilst her blindness was of no concern I discovered she had other medical issues preventing her from undertaking such a challenging event. The disappointment was obvious, so John and I decided to push her in a wheelchair and Paris was Ethel's second marathon.
·       1986 London Marathon – Guided Local Physiotherapist David Wood, also a blind athlete.
How Can You Support Colin at the London Marathon 2018?
Donate at http://uk.virginmoneygiving.com/ColinHassell
History of Challengers
In the 1970s, there were very few facilities to help disabled children to have fun and take part in sporting and other activities.  Colin Hassell recognised this gap and started providing swimming classes for disabled children at the sports centre in Guildford, Surrey, where he was assistant manager.
In 1979 Colin, with the help of others, founded Guildford Adventurers – a charity which raised funds and identified a location in Stoke Park that remains the Guildford play centre and Headquarters today. Since then, the service has expanded with several play and youth schemes in the communities around Surrey and now has a centre in Farnham too.
Find out more by visiting www.disability-challengers.org