28th February 2019
60 seconds with…designer Abby Gadd of Agnes Walker Jewellery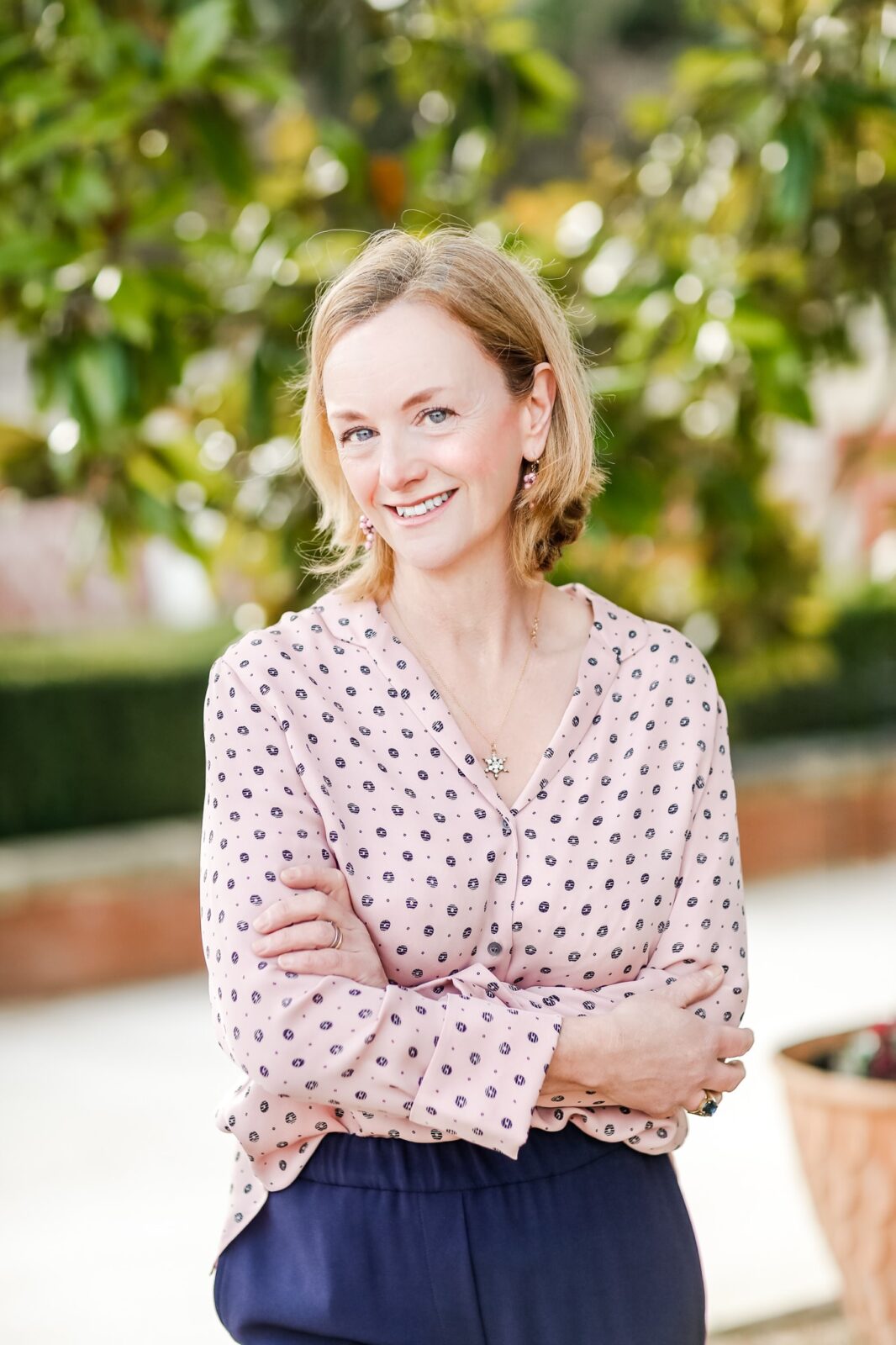 Jewellery and accessories designer Abby Gadd is the talented creative behind British couture brand Agnes Walker.
Abby's handcrafted design explores the connection between heritage and modernity through beautiful adornments for weddings, special occasions and the everyday. Inspired by vintage and antique elements, the collection is designed for thoughtful, stylish people who treasure jewellery for its uniqueness and history.
Agnes Walker's heritage as a brand inspired by the past led Abby to choose Fetcham Park as the setting for her signature collection photoshoot. More recently, she used the House as the backdrop for her own business headshot with Eddie Judd Photography.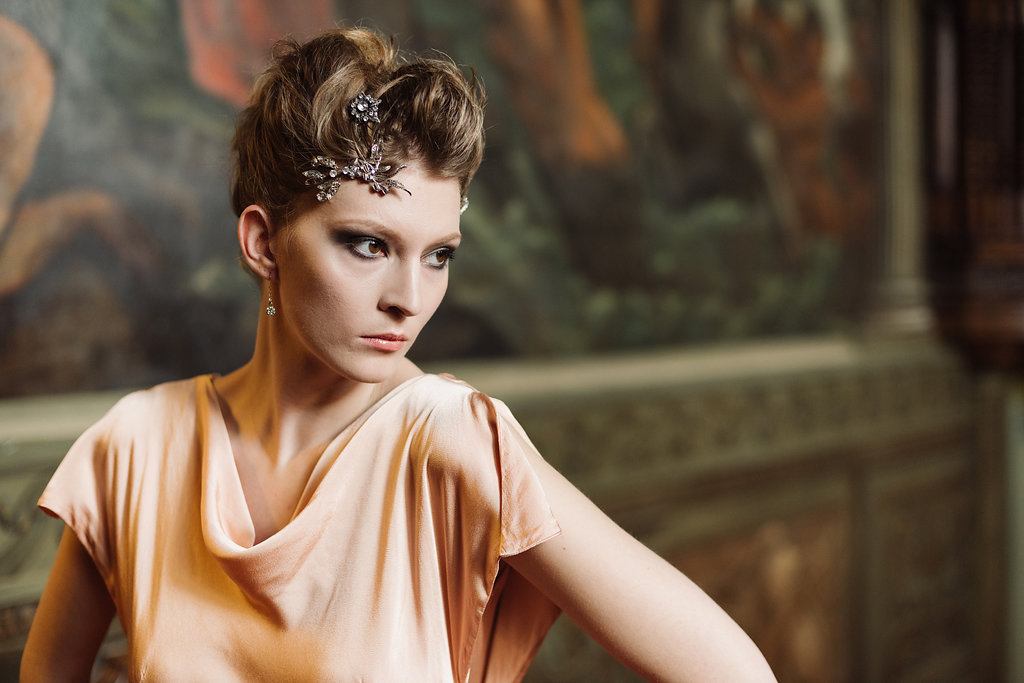 We find out more about the inspiration behind Agnes Walker and the challenges of building a couture brand in our 60 seconds with…interview.
FP: Tell us a little bit about your background.
Abby: I'm based in West Sussex in the vibrant village of Wisborough Green, where I live with my husband and three daughters.  I grew up in Leigh-on-Sea, a bustling little town alongside the river Thames in Essex, before heading off to study history at Gonville and Caius College, Cambridge.
My interests centred on modern British social and cultural history from the Victorian era onwards. After my degree, I chose to continue my academic studies with a PhD at University College London.
FP: What led you to start your own business?
Abby: Although I followed an academic path from school, through university and into the workplace, taking up several research and teaching posts in higher education, I've always had a strong creative side.
After the birth of my second daughter, I realised that this important element in my character was under-represented in my working life. While taking time off to look after my young children, I began to explore how I might bring together my passion for history and my desire for a more creative life.
I'd been an avid collector of vintage textiles and costume jewellery for many years and I was keen to harness this passion in a business venture. Inspired by my own recent wedding and also by my cousin, who was building a successful business making cakes for weddings and celebrations, I saw an opportunity to carve out a distinctive space within the wedding accessories market for unique bridal headpieces created from reworked vintage millinery and jewellery elements.
Trading initially as Cherished Vintage, I began to make a name for myself as a designer of unique bridal accessories. In 2016, I rebranded my business as Agnes Walker, taking the name of one of my great-grandmothers. Her long life spanned 98 years from the mid-Victorian period to the 1960s and encapsulates my desire to celebrate heritage – both our shared design history and your own personal story – in my work.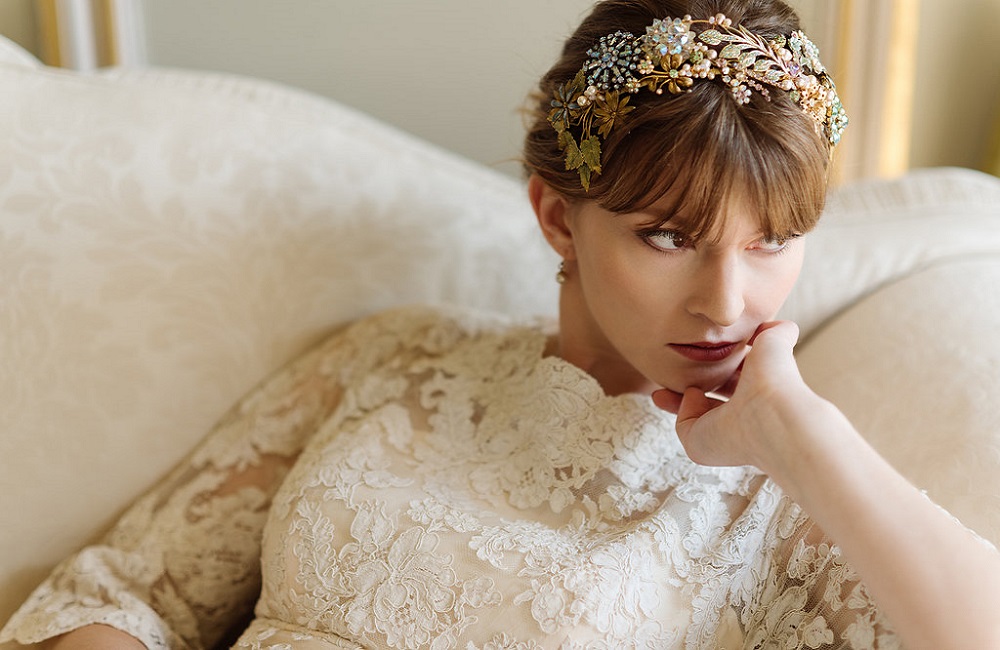 FP: What has been your biggest business challenge so far?
Abby: I think the biggest challenge in building the business has been carving out clear and effective routes to market for my products. Building a strong online presence and e-commerce shop is hard work, and needs to be backed up with a well thought out marketing and PR strategy. It is hard for me to cover all these bases effectively while being the sole member of the Agnes Walker product production team!
FP: What's been the most valuable piece of business advice?
Abby: Don't try to be all things to all people. One of the most valuable exercises I have done with my business planning has been to identify who my ideal customer is so that I can hone in on what it is that she desires from her bridal accessories or jewellery, and therefore, hopefully, deliver what she requires.
FP: To what do you attribute your success?
Abby: Well, there is still so much I want to achieve with the business and still many indicators of success that seem a long way off, but I think the success I have achieved to date, comes from staying authentic to my brand ideals and values and by actively seeking out the right people to work with, the right collaborations, to articulate that vision clearly and confidently. Working with Bea Pietkarska from Photography by Bea on my Signature Collection shoot at Fetcham Park was a good example this synergy working in practice.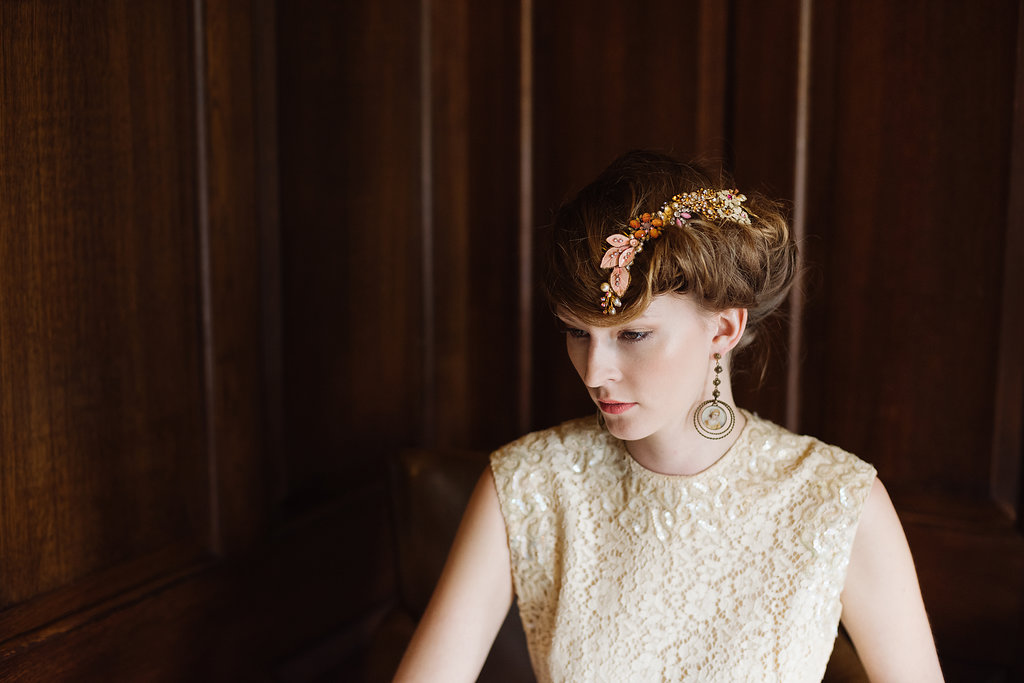 FP: What advice would you give to someone thinking of starting up their own business?
Abby: Don't skimp on the groundwork. I began Cherished Vintage, the first incarnation of my business, with virtually no strategy as to how to take it forward. I had some beautiful products to sell, but that was it. I hadn't prepared the ground in any shape or form so, as a result, all my actions and decisions were reactive.
FP: Who or what inspires you?
Abby: In terms of design, I am greatly inspired by the art and cultural movements of the early twentieth century. The sinuous lines and nature-inspired motifs of Art Nouveau, particularly appeal and are frequently referenced in my designs.
In business terms, I am frequently inspired by other 'solopreneurs' and gain a great deal from watching other people, especially other women, build businesses out of their passions and interests.
During 2018 I joined the Guildford-based networking group The Inspiration Space, which is headed by the hugely inspiring Liana Fricker. The meetings and events organised under that umbrella have been incredibly valuable.
FP: Who would you like to work with and why?
Abby: Florence Welch, from Florence and the Machine is a long-time muse. It would be incredible to see her in an Agnes Walker headpiece. Paloma Faith, too, wears vintage clothing with such vibrancy. She is another person I'd love to see in one of my designs.
I would also love to collaborate with a fashion designer on headpieces and accessories for the catwalk or campaign images.
FP: What's next on the horizon?
Abby: I'm approaching the busiest time of the year for my company. Bridal orders tend to peak around spring and early summer, so I am busy working on a series of bespoke orders.
At the end of next month, I will be launching the latest designs from my Bloom Collection of bridal headpieces, and showcasing them at an event organised by the creative events team, What Peggy Did Next, at The Grange in Hampshire on 7th April.
I will be collaborating with Surrey hair and makeup artist (and former Fetcham Park bride) Carolanne Armstrong at this event, with some mini-styling sessions, exploring ideas with brides-to-be.
For more information about Agnes Walker, visit www.agneswalker.com
Product Shoots at Fetcham Park
Considered Surrey's 'best-kept' secret, Fetcham Park offers several beautiful and inspiring spaces for product shoots and advertising campaigns. Recent brands who have chosen the House as a backdrop include Childrensalon for their magical Christmas campaigns in 2017 and 2018.
Discover more in our blog Behind the Scenes: Fetcham Park on Camera
Contact us about your brand shoot or advertising campaign.
Email: hello@fetchampark.co.uk