30th October 2017
Discover Deepdene
The fascinating stories and grand physical features of the Deepdene Estate are brought to life with a new and interactive walking trail.
Just a 15-minute stroll from Dorking's town centre and railway stations, The Deepdene Trail provides free access to one of the country's most historically significant gardens – privately owned since their creation in the 17th-century.
Discover History
Guided by a new mobile App, see the landscape as it was in the early 1800's and delve into the lives of the estate's previous residents. Discover Deepdene's connection to the famous cursed Hope Diamond, the tragic reason behind the Hope family Mausoleum and how this unique landscape has changed over time.
Created by Thomas Hope, the highly influential collector, builder and designer of major international importance, the magnificent Hope Mausoleum is one of the most important historic buildings of its kind.
Spectacular Views
There are walking routes from 1-9 miles to explore which take you through some of Surrey's most beautiful and serene countryside with spectacular views. Download the trails.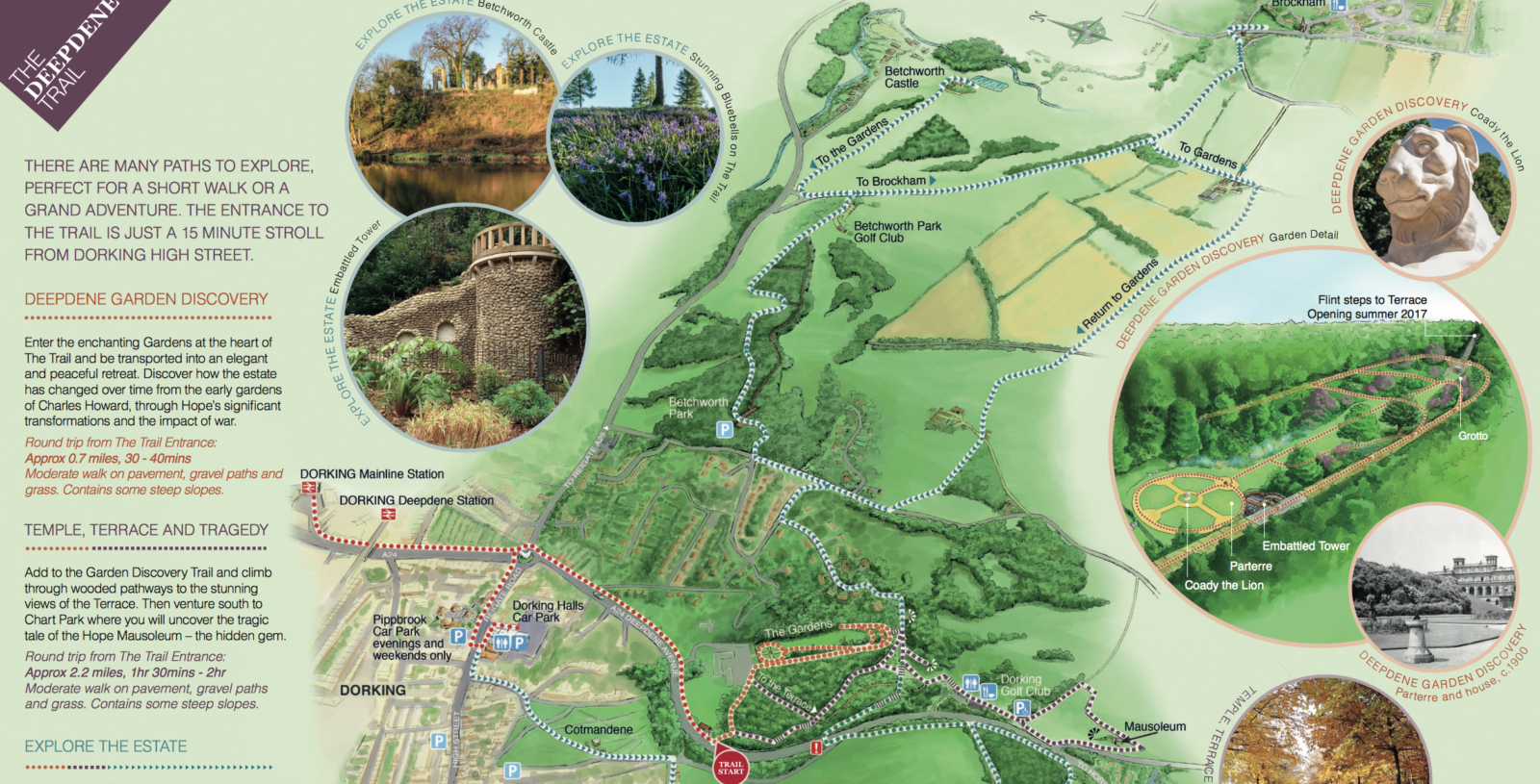 What's On
From History Detective Walks, Embroidery Workshops, Bat Walks and Guided Tours with Dorking Museum, there's year-round activities for all ages and interests. A full list of What's On can be found at the Mole Valley District Council website.
General Info
The Deepdene Trail is open to explore for free anytime between dawn and dusk.
Food and drink is available at Dorking Golf Club House which has a sunny terrace with far reaching views over the Chart Park, part of the historic Deepdene Estate offering an ideal rest stop. Toilets are available here too. The Club House is open dawn until dusk all year round.
For more information, visit www.molevalley.gov.uk/deepdene/index.cfm