3rd December 2019
60 Seconds With… Chris Roberts from InVision Communications
Video content is arguably the most effective way for brands and businesses to communicate with their audience.
Consumers like it because it's entertaining, engaging and easy to digest. For marketers, there's the potential for a huge return on investment through many channels.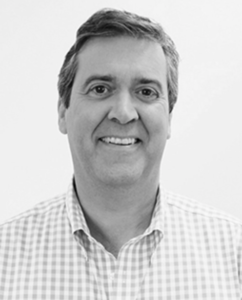 InVision Communications, based at our sister building Parallel House in Guildford, work with partners to tell a clear and compelling story for their brand. Bringing together award-winning broadcasters and experienced communications leaders to provide creative and strategic support in content development, delivery and distribution.
In our latest 60 Seconds With…interview, CEO Chris Roberts shares some industry insight and highlights the importance of video content as part of an integrated marketing strategy.
FP: Tell us a bit about InVision – who you are/what you do/who you do it for?
CR: For more than 20 years I was lucky enough to work on the frontline of international television news as a correspondent then latterly a presenter with I.T.N. and Sky News. That adventure took me around the world but in 2010 with three young children to look after/worry about I decided to leave television and set up InVision.
The aim was quite simply to help clients tell their stories in the same way that I documented news events across the globe. We with work major brands, FTSE 100 companies and third sector organisations producing content that ranges from films showcasing companies to media campaigns for charities. I still present the odd film as well!
FP: How has the industry changed since you started out and what are the challenges/opportunities for the future?
CR: The biggest change has been in technology. The cameras built into smartphones today allow anyone to produce video……some of it good and some of it very bad! What we do however is more than just set up a camera and press record. We are storytellers and can help our clients reach out and engage with their audience whether that's employees, shareholders, clients or the media.
FP: What motivates and inspires the team?
CR: When we make a difference. We've helped charities raise tens millions of pounds in donations. We've helped companies reach out and talk to their staff and customers. We've raised people's awareness on issues such as mental health and climate change. I'd like to think that some of the TV reports I produced back in the day made people think about the world around them and in the same way I'm very proud of the fact that some of InVision's work has made a real difference.
FP: What would you say are the top three skills needed to run a successful business?
CR: Listening to what a customer wants, delivering it on time and on budget plus treating staff in the same way you would want to be treated if you were the employee and not the boss.
FP: Best piece of business advice you've ever received?
CR: The more you put in the more you will get out.
FP: Why is video content important for businesses? Should it be part of all marketing strategies, whatever the industry…?
CR: Video now accounts for 80% of global internet traffic and that figure is only going to rise. From a business perspective, video on a landing page can increase conversion rates by 80% or more (source, LinkedIn) while viewers retain 95% of a message when it's delivered in a video compared to 10% when reading it in a text (Wordstream). Put simply, it works.
To find out more about InVision Communications, visit https://invisioncomms.com
Serviced offices at Fetcham Park
Our serviced offices are private, distraction-free spaces in an historic setting. Close to the M25/A3 and equipped with everything you need to maximise efficiency, from innovative IT to designer ergonomic furnishings.
To find out more email hello@fetchampark.co.uk