19th January 2023
Revd Pouya Heidari of St Mary's Church captains The Archbishop of Canterbury's team for Green Football Cup to combat climate change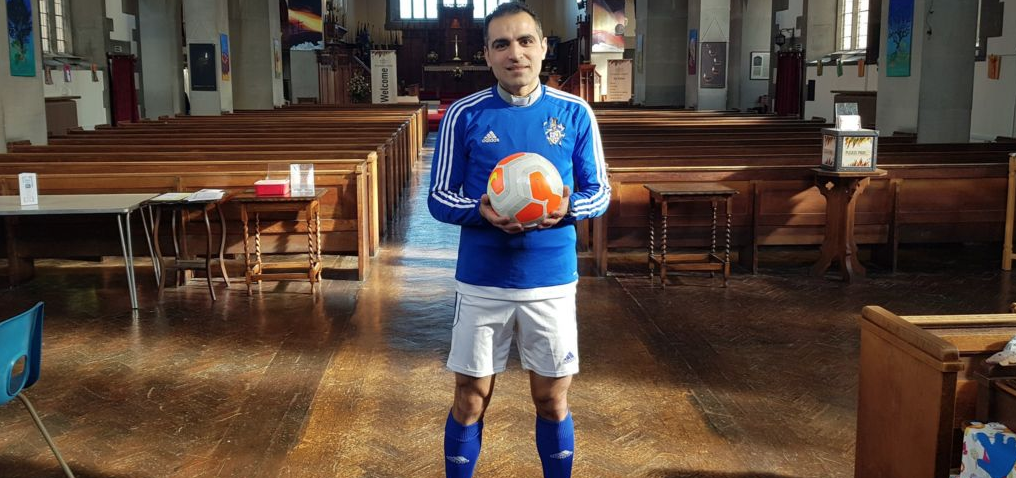 The Archbishop of Canterbury's football team, captained by Revd Pouya Heidari, the rector of our neighbouring church St. Mary's, will host a 'green' football match as part of a national campaign to raise awareness of the Climate Crisis with football the focus for practical steps to reduce carbon.
The Archbishop of Canterbury Football Team is playing a fixture against national interfaith team Heaven Help Us, as part of the new Green Football campaign, this Saturday 21st January at 12.30pm at Surrey Sports Park, Guildford.
The teams will join fans and players from over 80 professional football clubs, including premier league level to compete for the "Green Football Cup", who are all committed to actively supporting climate change through Planet League's Green Football Weekend.
Pre-match training for the team is being  provided courtesy of Surrey FA at the Meadowbank Football Stadium on Friday 20th January from 3.30pm – 5pm. CEO Sally Lockyer, Surrey FA said: "Over 70,000 players from local clubs, community groups and charities enjoy our fantastic 3G facilities at Meadowbank each season and we're thrilled to host the Archbishop's team training and match preparation. Green Football weekend and climate action aligns with our long-term strategy for sustainable football facilities and we wish the Archbishop's team the best of luck".
The team will return to St Mary's for supper hosted by the St Mary's congregation.
The Archbishop of Canterbury FC was founded by Revd Pouya Heidari, a former professional player in Iran, and played its first game in February 2020. It is formed of clergy and ministers from around the Church of England.
Revd Pouya Heidari said, "God's creation is a gift to our humanity. It is our joy and our duty to be good stewards of our world. Archbishop of Canterbury Football Team is delighted to support Green Football Weekend which raises the issue of climate change.
"In the Anglican Communion we believe in The Five Marks of Mission in which the fifth mark is 'to strive to safeguard the integrity of creation, and sustain and renew the life of the earth'. It is a privilege to be part of this vital message through faith and football while enjoying God's gifts in creation."
For more details or to offer support, contact Team Manager Rev Pouya Heidari on 07787 166891 or Josh Symmonds, Head of Marketing at Surrey FA at Josh.Symmonds@SurreyFA.com or 07809 409215 or Sally Lockyer.